The Oriental Rug Spa by Chem-Dry on the Shore is Salisbury's only Textile Pro certified cleaner.  Actually we are the only certified cleaner in Maryland, Delaware and DC.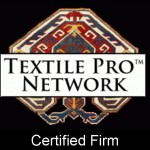 Textile Pro™ graduates have been through an intensive six-month training program on oriental rug and fine fabric upholstery care. Those who are Certified took the extra step of submitting case studies of "tricky" textiles that they inspected and washed. Unlike other cleaning courses where "passing" requires taking a simple quiz, this is the first certification program in the rug cleaning industry that is "hands on" and requires thorough documentation of every step of their cleaning process. Certification also requires submitting proof of insurance coverage for handling textiles at the time of certification.
So what does this mean to you?  I mean you are just looking for a reputable rug cleaner in in Salisbury, right?  Well, this certification took many months to obtain.  And since we are the only certified cleaners in Maryland and Delaware, we take it seriously.  You should ask questions of anyone you are considering have clean your expensive rugs:
1. Are you trained and certified to clean oriental and natural fiber rugs?  If so, by whom?  They should Answer either Textile Pro Certified or Master Rug Cleaner Certified.
2. Are your solutions Wool-Safe approved? Can you supply the documents to that effect?
3. Are you a member of Ethical Services?
4. Are your cleaning solutions Green Certified?
5. Are you insured?  Will you show me your insurance certificate?
6. Will you give me a tour of your rug cleaning plant?
You should get the answers you want to the above questions before you let anyone in your home and take your rugs.
Learn all about how to chose a rug cleaner in Salisbury that is right for you