By admin on Jan 9, 2013 in Oriental Rug Cleaning, Oriental Rugs, Silk Rugs
Today most hand-knotted silk rugs are made in India, Turkey, Iran, Egypt and China.  How do you spot quality and avoid a rip off when buying a silk rug?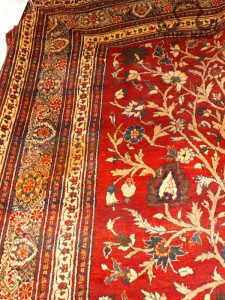 The easiest way to recognize lower end silk rugs is determined by pile height.  The longer the pile height, the cheaper the rug.
Higher end quality rugs have a high know count per square inch and lower pile height.
If the pile height can be measured with a ruler, it is most likely a lower quality silk rug.
The Oriental Rug Spa of The Eastern Shore can care for a clean your silk rugs, not matter what quality it is.
We are the only Textile Pro Certified Rug Cleaner in all of Maryland and Delaware.
The Oriental Rug Spa of The Eastern Shore offers Oriental Rug Cleaning on the Eastern Shore of MD.  We serve Easton, Chester, Stevensville, Chestertown, Salisbury, Ocean City and the surrounding areas.  410-221-0097