By admin on Jul 4, 2012 in Oriental Rug Cleaning, Oriental Rugs
Maryland Oriental Rug Cleaning Company, The Oriental Rug Spa of The Eastern Shore, has achieved Coveted "Textile Pro" Certification.  They are the ONLY Textile Pro Certified company in Maryland and Delaware
The Oriental Rug Spa of The Eastern Shore,  a cleaning firm serving the Easton MD, Salisbury MD and Ocean City MD areas since 2007, was chosen last year to be part of an elite training program for oriental rug and fine fabric care conducted by International Rug Specialist Lisa Wagner and Fine Fabric Specialist Jim Pemberton.
After graduating from the 6-month training program, Vance Morris, owner of the Rug Spa and Chem-Dry On The Shore decided to pursue Textile Pro Certification, which included developing a case study video documentation of cleaning rugs and upholstery.  "This was more intense than some of the term papers and presentations I had to do for college", Morris mentions.
"Most industry certification programs involve taking a short test with multiple choice questions, and do not guarantee that the student actually knows the craft. Jim and I actually wanted to know that we were training not the best test takers sitting at a desk, but the best textile cleaners out in the field," explained Ms. Wagner.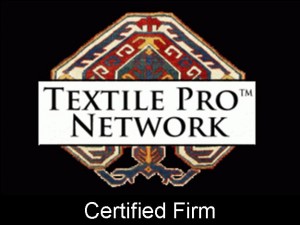 "Our industry has lacked advanced textile training for years, so it is exciting to see these professional cleaners commit to excelling in their craft through this program. It only allows them to better serve their community's rug and fabric needs," added Mr. Pemberton.
Only 32 companies in the US, Canada and Europe have achieved Certified Status of Textile Pro graduates, The Oriental Rug Spa of the Eastern Shore being one of those earning the coveted designation.
Morris elaborated further "This certification truly separates us from other cleaning companies.  My company is dedicated to educating our clients and other consumers on maintaining their fine rug and fabric investments."
Chem-Dry On The Shore provides oriental rug cleaning and upholstery cleaning services as well as carpet cleaning and tile & grout cleaning. For more information about the company you can visit their website at www.ChemDryOnTheShoreMD.com or call 410-221-0097.