By admin on Jun 11, 2012 in Oriental Rug Cleaning, Oriental Rugs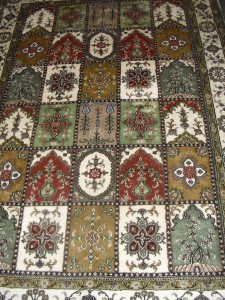 As with wool rugs, the quality of Silk rugs varies enormously – from high-end investment grade silk weavings (such as Turkish Hereke, and Persian Qum, Nain, and Isphahan silk rugs) to lower end silk "blends" and Art (Artificial) Silk rugs from China and India.  Every weaving country has woven product that is of poor grade, as well as excellent grade.  You will find higher quality true silk rugs in the nicer rug galleries in our city, not in the discount (or "going out of business") stores.  I have had many clients bring me rugs they were told were silk, and they discovered they were actually not … so always look for label specifics and deal with reputable rug retailers.
Silk has a luxurious and bright look that makes even less-than-high quality rugs appealing to look at. These rugs have a very noticeable light and dark direction as you walk around the rug to view it.  The fine threads also enable a weaver to create very detailed and beautiful designs in the investment grade pieces.  Because of the delicate nature of silk face fibers, it is recommended to put these rugs in low traffic areas or mounted on the wall as "art." When mounting rugs, velcro is recommended for even hanging.
Art Silk rugs are generally a blend of low-grade (or damaged) silk and rayon, or 100% rayon, or mercerized cotton (cotton that is chemically processed to be "shiny" like silk).  Art Silk rayon rugs are primarily found from China and India, and mercerized cotton from Turkey. It is uncommon to find a room size "100% silk" rug … chances are if a "silk looking" rug is larger than 5×7 it is a blend or Artificial Silk rug – especially if the rug is from China. Generally these Art Silk rugs respond well to cleaning (despite their problems) and are much more affordable, costing several hundred dollars rather than the thousands that true Silk rugs command.
The Oriental Rug Spa Of The Eastern Shore serves Easton, Salisbury, Ocean City and all of Talbot, Wicomico, Dorchester, Worcester, Caroline and Somerset Counties in MD
We are the ONLY Textile PRo Network Certified Cleaner in Maryland and Delaware