By admin on Jun 9, 2012 in Oriental Rug Cleaning, Oriental Rugs, Pets and Rugs
How does pet urine damage my rug?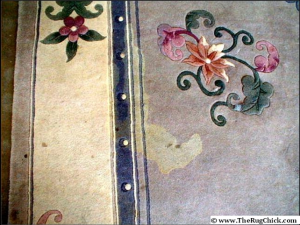 Pet urine (and pet vomit) goes on to your rug hot and acidic.  Heat can cause rug dyes to bleed, it causes the urea in the urine to discolor the fibers yellow, and the acidity "sets" all of this damage in place.  It is as if the rug has been re-dyed.
The heat also causes the stain to penetrate the fuzzy fibers and go into the inside of the rug's foundation fibers.  Most rugs are woven on a cotton foundation.  Each single strand of cotton fringe runs all the way through the rug to the opposite side.  This cotton "skeleton" absorbs the pet urine and is very difficult to remove.
Most contemporary rugs are chemically treated (this is especially true for rugs from China and Pakistan) which makes them sensitive to sun fade and also to stains.  Pet stains on these rugs cause a loss of dye that is permanent unless you treat it quickly.
What other problems can occur because of pet stains?
Besides the immediate damage of discoloration and odor, the long term damage from pet stains can contribute to a dissolving of the rug's dyes.  Old pet urine stains go from an acid stain when fresh, to an alkaline stain when they sit for weeks.  This alkalinity causes the chemical bond of rug acid dyes to wool to shift and the fiber releases the dye and there is a loss of color.  The dyes essentially "dissolve" and will wash away with cleaning in every area with an old pet stain.  This cannot be reversed.
With rugs that have a latex backing (hooked and tufted rugs) the pet urine penetrates this latex and is locked into the adhesive.  The odor cannot be completely removed from these latex-backed rugs.  (If your rug has a material cover backing, it has latex.)
What will you do, and what can I expect?
Our wash process is gentle and safe for rugs, for people, and for pets.  We use a mild shampoo and cold water on all natural fiber rugs, and we use an acidic solution to "stabilize" rug dyes for cleaning so that we can safely clean it.  We then soak the rug in an enzyme solution to remove the odor causing bacteria from the fibers and the foundation of the rug.  All of this is rinsed out thoroughly.  Our success at removing the odor is 99.9%.  Our success at removing the stains varies with rug type and age of the stains, but pet stains are always assumed to be permanent.
The Oriental Rug Spa of the Eastern Shore Serves Easton, Salisbury, Ocean City and all of Talbot, Worcester, Wicomico, Somerset, Dorchester and Caroline Counties in MD
We are the only Textile Pro Network certified firm in all of Maryland and Delaware.